Snowboard Buying Guide
There is nothing quite as exhilarating as a day spent out on the slopes. The fresh white powder, the stunning mountain views…and just you and your board to enjoy them.
Before this fantasy becomes your winter reality, you'll need to buy a snowboard. Choosing a snowboard requires more than just picking your favorite color. Boards should match your riding style and skill level. On top of that, your snowboard should be sized to match your height and weight. It should also be designed to tackle your favorite terrain.
All of these factors can make choosing a snowboard seem overwhelming, but do not fear. L9 Sports has brought together all of the information you will need to help you find the snowboard that is perfect for you. With our board size chart and other important information, riders of all ages and skill levels can order a snowboard that makes the outdoor experience even grander.
The first step to finding the right board is determining what size snowboard you'll need. The L9 Sports Size Chart for Snowboard is a great place to start. Most charts are simply a snowboard height chart — and to be fair, this is a big factor. A good rule of thumb is for your board to stand at about chin height. If you want to know how long your snowboard should be for women's or men's shopping, start by finding the size on the chart that corresponds to your height.
The Snowboard Size Chart is a great place to start as you shop for a snowboard — but don't rush into buying a board just because it looks good on paper. Try out different styles and types of boards and find what works best for you. Trust what feels good to you. Here are a few more essential attributes to consider as you hunt for the perfect snowboard.
Snowboard Width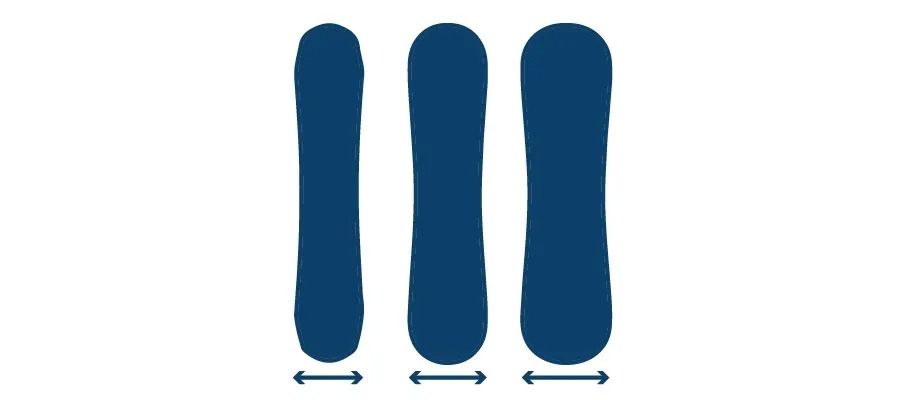 However, you'll also want to keep in mind that recommended snowboard length varies based on your height and weight ratio. As such, our size chart also lists rider weight ranges. If you weigh more than the average weight range for your height listed on the chart, you'll probably want a board that is a little longer than the chart's recommended length. If you weigh less than the average weight range for your height, you'll want to look into purchasing a board that is a little bit shorter than the length recommended. This provides the appropriate amount of control for your frame.
Snowboarding revolves around balance and your center of gravity — both of which are affected by your height and weight. Your board should provide a solid, stable base for your body without undue strain.
Your experience level and riding style also is a factor in what size snowboard to buy. Beginners and freestyle riders should generally get something on the shorter end of their recommended range, as a smaller board is easier to spin and maneuver. All-mountain, powder, and freeriding snowboards should go to the higher end of the board size chart; these larger boards provide more stability and top-end speed. For more information, watch our "How to Size a Snowboard" video.
After determining a good snowboard length based on your height, weight, and style, take a moment to check your board width.
Look at your feet. If you have smaller than average feet for your height, you will want to look for a slightly shorter and narrower board. If you have larger than average feet for your height, you might need a longer and wider board.
How wide of a board you choose can affect toe and heel drag. These will slow your speed and inhibit your ability to carve on edges and turns. Minimizing excess drag will give you a much smoother ride.
When sized correctly, your snowboard boots will just barely hang over the edges without touching the snow. Ideally, your toes and heels should overhang your board anywhere from ½-inch to one inch. Any overhang less than that means your board is too wide, while any overhang greater than one inch means you should invest in a wider board.
Snowboard Boots and Bindings
Speaking of toes and heels, boots and bindings are an essential part of the snowboarding experience. Snowboard boots are fairly simple to size since they size just like standard footwear. If you wear size 10 shoes, you'll probably need size 10 boots. Snowboard bindings, on the other hand, are sold in size ranges instead of specific sizes.
What do boots and bindings have to do with selecting a snowboard? All boards are not universally compatible with all bindings. Make sure your bindings and the boards you are investigating will work together. It's also a great idea to take your boots and bindings with you to test with potential boards as you shop. If you are looking to buy your first pair of boots and bindings or simply looking to upgrade, L9 Sports has exactly what you need.
Snowboard Profiles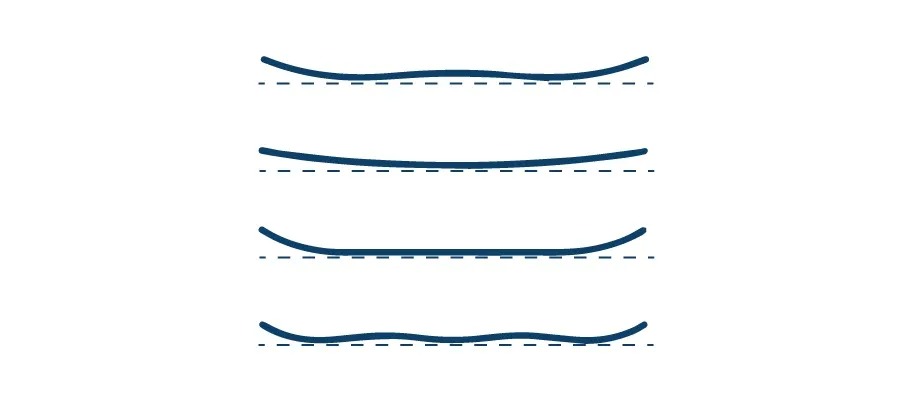 Each snowboard has a rocker/camber profile that allows it to perform well in certain snow conditions. A board with a rocker in the nose and tail allows for a buttery, smooth feel while a full camber board has a grippy, reliable edge feel. Choosing a board profile comes down to what kind of terrain you will be riding and your personal preference.
Camber
A board that has a full camber profile has no rocker at all. This board has the maximum amount of pop and edge grip that you will find on a snowboard. Camber offers pop for ollies and a snappy transition from turn to turn.
Flat/Rocker
Most snowboards and skis have some kind of flat or rocker in their board profile. Rocker speeds up turn initiation and helps the board float through soft snow. Options include:
A fully rockered reverse camber profile
A fully flat profile
Just rocker in the nose
Flat in between the bindings
Camber under the bindings
A combination of some or all of the above
Combination
The majority of board manufacturers are coming up with creative combinations of different rocker profiles to enhance your experience on the hill. For example, Salomon's Hybrid Rocker features a nose and tail rocker, camber underneath each binding, and flat in between the bindings.
Snowboard Shapes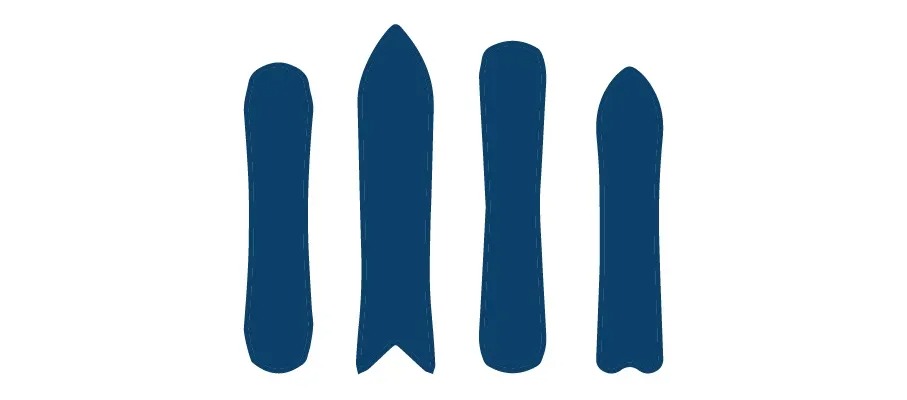 Snowboards come in a variety of shapes as well as sizes. Once you've found the right size, it's important to select a board with a shape that fits your riding style.
A twin board is symmetrically shaped, meaning that the nose and the tail of the board have identical lengths and widths. This shape of the board is designed to be ridden forward and backward, which makes it great for beginning boarders and freestyle riders.
Directional boards, on the other hand, are designed to go one direction —- nose first and downhill. These boards tend to have noses that are longer and wider than their tails.
A twin directional board is a mix of the first two shapes. It provides the stability of a directional board with the ability to switch directions just like a twin board. This shape is great for all-mountain freestyle riders.
The tapered board shape is best described as an exaggerated version of a directional board. With a significantly wider nose than its tail, a tapered board is perfect for powder riding.
Snowboarder's Ability Level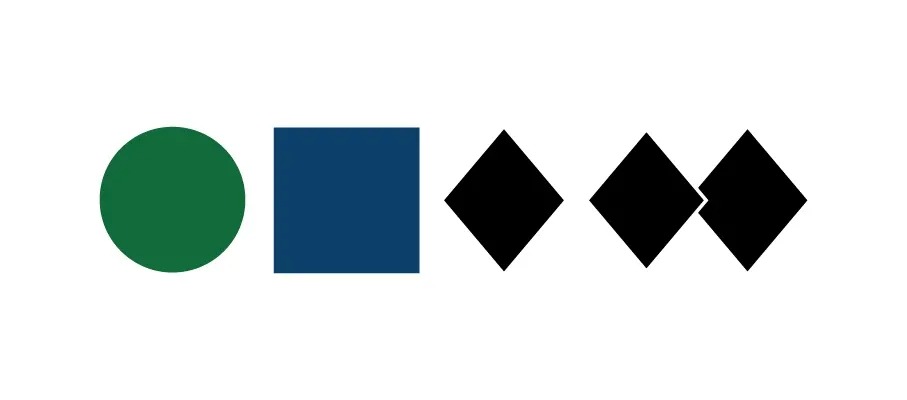 As mentioned before, your ability level dramatically affects the type of snowboard you'll need. It's not just about the length, though. Experience level also impacts what design, materials, and technical features you should look for. An advanced boarder would be disappointed in what a beginner board can do (and couldn't do) while a beginning boarder would be quickly overwhelmed by a board designed for a more experienced rider.
Beginners have never snowboarded before or are still slowly feeling their way down a typical run. These riders should look for a snowboard with a soft flex and make sure they have sized their boards correctly.
Intermediate riders are comfortable with their balance and ride both a toe edge and a heel edge with ease. These boarders are usually just starting to learn to ride switch. Intermediate riders are starting to discover what kind of terrain they prefer. They should let their preferred style of riding guide their decision-making as they move to a more advanced snowboard.
Advanced riders feel just as comfortable strapped into their snowboard as they do walking down the street. Like intermediate snowboarders, advanced riders should let their preferred terrain guide their board buying experience. They should also investigate various customizations that can be applied to their personal snowboard to fit their own preferences and technical quirks.
Finding your perfect snowboard can be an exciting process. Start with the right size and shape, and then find a board that fits your style and ability level. Sure, it takes time to discover what works best for you, but nothing can compare to the feeling of flying down the perfect mountain on the perfect board. Start shopping for your snowboard today at L9 Sports with a low-price guarantee.