How to Choose Winter Gloves and Mittens
Gloves may be one of the most underrated essential items that we think about when 'kitting' ourselves out for the winter. But when you are out on the slopes, they are something you almost always think about, other than your boots of course. Let us show you our employee picked top rated snow gloves and mittens that we carry at Level Nine Sports, guaranteed to keep your hands warm and dry offered at the lowest prices anywhere.
Gloves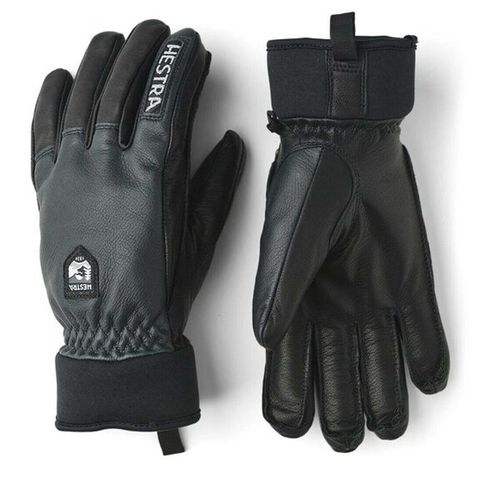 Hestra Army Leather Wool Gloves 2023
We rank this Hestra Army Leather Wool Men's Glove at the top of our list every year. When considering what glove you should purchase, this glove checks all the boxes from high dexterity to versatility. One of the things we love most about this glove is its durability. With a treated goatskin leather palm and cowhide backhand, you can count on these gloves to last you seasons to come. Not only does high quality leather provide great durability, it also is a durable water repellent material. Water resistance helps keep your hands dry and warm whether it's a pow day, spring slush, or even if you're just playing in the snow.
This glove also features a removable liner made of wool terry/wool fleece. We love this feature because you can remove the liner as you please to let it air-dry after a day on the mountain or to throw in the wash mid-season. Like the leather Hestra uses, wool is amazing for insulation, moisture management, breathability, durability, and even odor resistance.
Now you know that these are the top mens gloves to choose, but we also have to mention one other great feature that you have to know about. Hestra includes their famous wrist strap/handcuffs with these gloves. This means that you don't have to worry about losing your gloves on the chair ever again. The strap goes around your wrist and is attached to the glove, so you will never lose them. These amazing well-rounded gloves are available on our website for 30% off with plenty of color options to choose from.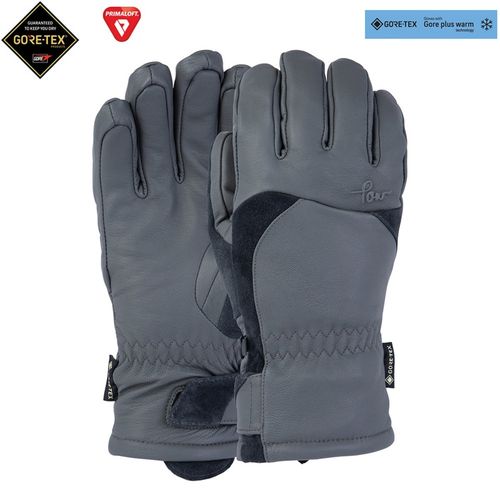 POW W's Stealth Gore-Tex Gloves + Warm
These gloves are for the women that struggle with keeping their fingers warm while out on the mountain, but don't want to lose the dexterity that comes with owning mittens. This glove made by POW, is hands down the best quality for the price you will find. The women's Stealth Glove has Gore-Tex technology, the Gore-Tex membrane is known for having the best waterproofness, breathability, and durability on the market.
On top of the Gore-Tex technology, POW also decided to incorporate Primaloft Gold insulation into these gloves. The synthetic insulation technology traps body heat that will keep your hands warm, even when wet. Just when you think these gloves couldn't get any better, they do. They also have touch screen compatible fingertips that allow you to use your phone without having to take your gloves off. You can find these amazing gloves for 50% off exclusively on our website.
Mittens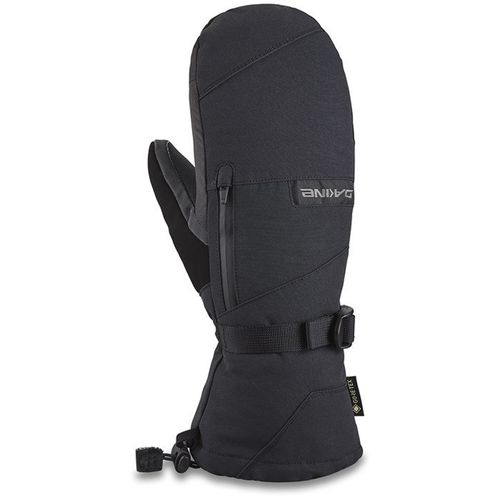 Dakine Titan Gore-Tex Mittens
This mitten is for those who don't want to break the bank on just a glove, but still want to get something that will keep their hands warm, dry, and comfortable. For only $79, you get a glove that has Gore-Tex technology and a removable liner that is touch screen compatible. Gore-Tex provides warm, waterproof, and breathable technology that will give you assurance while out in variable winter conditions. This glove has a longer cuff that allows you to wear it over or under your jacket with a cinch to get it as tight as you prefer. If you have hands that struggle to stay warm, you have the option to put hand warmers in a zippered pocket for added warmth.
Dakine thought of everything when making this mitten, they added a nose wipe panel on the thumb for those cold day runny noses. Dakine even added a goggle squeegee to clean up your goggles on the lift. You can get this glove on our website in sizes ranging from small to extra-extra large.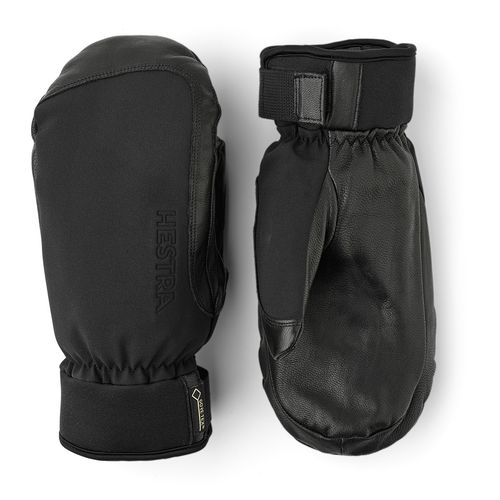 Hestra Alpine Short Gore-Tex Mitts
This amazing short cuff mitten made by Hestra satisfies all of the requirements and passes all of the tests when it comes to a quality mitten. It has Gore-Tex membrane that adds a significant amount of waterproof protection and breathability that is guaranteed to keep your hands warm on the mountain. Like the men's Army Leather Wool Gloves, this glove also has the extremely durable and waterproof goatskin.
One of the main reasons why you choose a mitten is for the added warmth it provides, and this glove delivers that expected warmth and more. The shortened neoprene cuff allows for extra adjustability with the option to add Hestras handcuffs for extra peace of mind while on the chairlift. These mittens are perfect for skiing, snowboarding, or everyday winter use. You can find these warm mittens on our website with the lowest price guarantee and free shipping.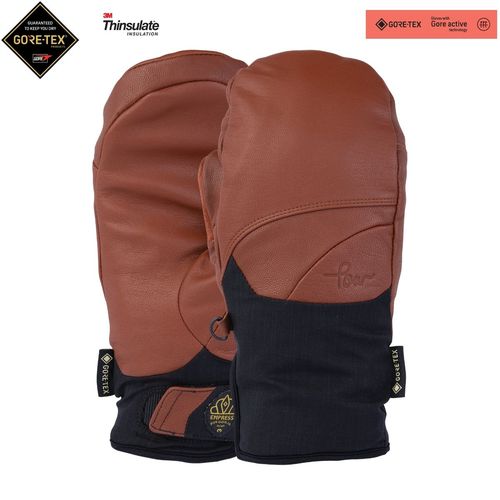 POW W's Empress Gore-Tex Mitts + Active
This great looking glove made by POW is an all around winner when it comes to women's mittens. Just like the women's Stealth Glove made by POW, this mitten also has Gore-Tex and Primaloft Gold technology. Meaning, your hands are guaranteed to stay warm and dry, no matter the conditions.
This glove is made of "Grade A" water repellant goatskin leather, a premium water repellent material. It even has a suede thumb where you can wipe your nose or goggles. For extra protection, POW included their Unite POW Wrist Leash so you don't have to worry about losing your mittens on the lift. You can find this glove for 50% off MSRP exclusively on our website.
Lobster Claw Gloves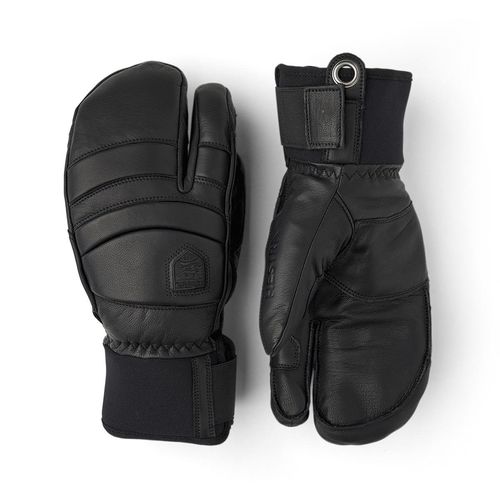 Hestra Fall Line 3-Finger Gloves 2023
Three-fingers are a great option if you can't decide between gloves or mittens. We love this Hestra Fall Line 3-Finger Glove, because it provides you with the added warmth you get from a mitten, and the mobility and dexterity of a glove. These gloves have a removable synthetic liner that is easy to wash and dry which can greatly extend the life of the glove. 3-finger gloves are a favorite with our freerider employees because of the style, warmth, and functionality. Hestra did a great job with these lobster claws, making them one of our top glove recommendations of the season. You can get these gloves for 30% off MSRP exclusively on our website.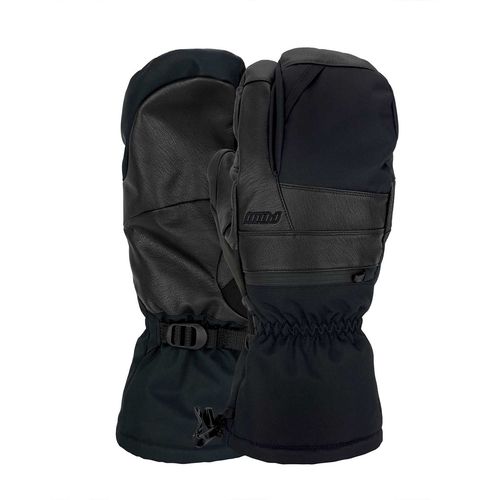 POW Gloves Tormenta Gore-Tex Gloves 2023
This Tormenta Trigger Glove made by POW is an amazing functional glove for all your winter needs. It integrates mountaineering design and functionality with a gauntlet cuff for powder performance. On-top of the cool design, this glove also has Gore-Tex and Primaloft Gold and Grip Control technology. What more could you ask for in a glove? This glove guarantees everything you look for in a glove, whether it be warmth or dexterity. You can get this glove for 25% off MSRP exclusively on our website.