How to Select the Right Ski
How to Select the Right Ski
Nowadays, there are countless options to choose from when purchasing a new pair of skis. Not only are there countless options, there are also a lot of confusing terms and technology that you need to know to make your purchase. We have provided all the important information you need to know when getting your next pair, so you can have as much fun as possible on the mountain.
Sidecut

Sidecut is the width of a ski at the tip, waist, and tail, measured in millimeters. Most manufacturers will refer to the sidecut as "turn radius". This is a more technical term that deals with the difference in width between the tip/tail and the waist of the ski. A larger turn radius means there is less sidecut. A smaller turn radius means there is more sidecut. In simple terms, a ski with a bigger turn radius number will typically make bigger/longer turns. A ski with a smaller turn radius number will be more nimble and has the ability to make shorter/sharper turns. Looking at the turn radius on a ski can be daunting when you don't know what is considered short/medium/long. Keep in mind that radius will change with the length of the ski.
Flex
The flex of a ski is the physical stiffness or rigidity of the ski. When deciding what flex you want in a ski, there are a few things you should consider. Consider your height, weight, age, ability, and skiing style. For example; if you are shorter and light weight, you should consider a softer stiffness because it will be easier to maneuver. Typically, if your style is freestyle, you will want a softer flex ski. If you are a freerider, then you will want a stiffer ski because you typically ski more aggressively.
Width

The width or underfoot of a ski is measured at the middle or "waist" of the ski.
Narrower skis, less than 90mm at the waist, are generally good for beginners and groomed runs. There is less surface area on the ski which means it is easier to maneuver and turn. Narrow skis make great carving skis that excel on groomers and hardpack snow.
Mid-width skis, between 95mm and 108mm, are generally called "all mountain" skis and are ideal for varying types of terrain. If you only plan on having one ski in your quiver, an all mountain ski is what you should purchase because they excel in any condition that you may ski in. When picking an all mountain ski, you should consider the area that you mainly recreate in. If you live in Utah, a typical all mountain ski may be 105mm, because of the amount of snow the resorts get. If you recreate on the East coast, an all mountain ski would typically be 95-100mm. Keep in mind that the wider the ski gets, the bigger the turn radius gets.
Wide skis, greater than 108mm, are mostly for powder or off-trail skiing. These skis will "float" on top of deep snow and stay more stable in choppy, variable snow conditions because of the width in the tip, waist, and tail.
Shop Skis by Width
Camber

The camber of the ski refers to the arc as seen from the profile of the ski when laid flat.
The camber determines the responsiveness of a ski and generally works hand-in-hand with the stiffness of the ski. Camber affects the skis carving, stability, and energy when turning and engaging a ski. Today's all mountain skis usually have camber and rocker in the tips and tails, this adds to their maneuverability in all conditions. When purchasing a ski, you should consider camber because it tells you how much effective edge (edge coming in contact with snow) you will have on that ski on snow. The amount of effective edge you need depends on your skiing style.
Rocker
Rocker is the opposite of camber. The ski will appear to bend upward from its center point on a fully rockered ski. Typically, you will not find fully rockered skis unless they are wide, powder-specific skis.
It is much more likely to find a ski with a camber profile and a "rockered tip", which means that the nose of the ski begins to bend upward earlier than a traditional ski. This makes turn initiation much easier and reduces the amount of surface area that is in contact with the snow, which then allows for more maneuverability. Rocker will give your ski a "floaty/surfy" feel.
Kids' Skis
Kids skis are a Level Nine speciality. The honest truth is that there is very little difference between kids skis. Kids are too light to require the varying stiffness and other technologies that are put into adult skis. Unless you have a kid skiing in a race, freestyle, or freeride program at your local mountain, we recommend you let them choose their favorite graphic. If you are unsure about sizing skis for your kiddos, refer to our ski size chart.
Types of Skis
They don't make skis like they used to. Thank goodness! Skis today come in more shapes and sizes and configurations so you can have a great day on the slopes no matter your ability level, the terrain, or the snow conditions. We've thrown together this little ski guide to help you know what to look for when shopping.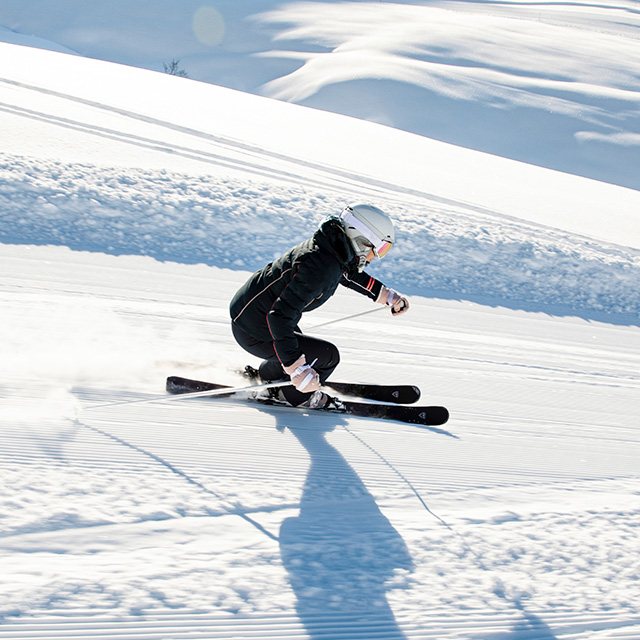 Carving Skis
Carving skis are designed to excel on groomed runs. They are easy to turn, with wide tips and tails and a narrow midsection. This allows the skier to rely on the skis to do most of the work. Proper turning technique is easily learned on these skis, so you can ski faster and maintain greater control.
Alpine ski racers go really fast on groomed runs and use advanced race skis. Race skis are built purely for speed and should only be used by experienced skiers.
All Mountain Skis
If you need a ski that will do everything, from groomed runs to steeps and powder, this is your ski. All mountain skis are especially good for people who only want to purchase one pair of skis to get them through a season. However, skiers with gear closets full of skis also like to have a couple sets of all-mountain skis on hand because of their versatility.
Freeride skis are wider versions of all-mountain skis. They hold an edge well on steep, icy slopes, but still offer great flotation for powder skiing. Their ability to ski groomed runs usually suffers, but most freeride skiers are good enough to overlook that.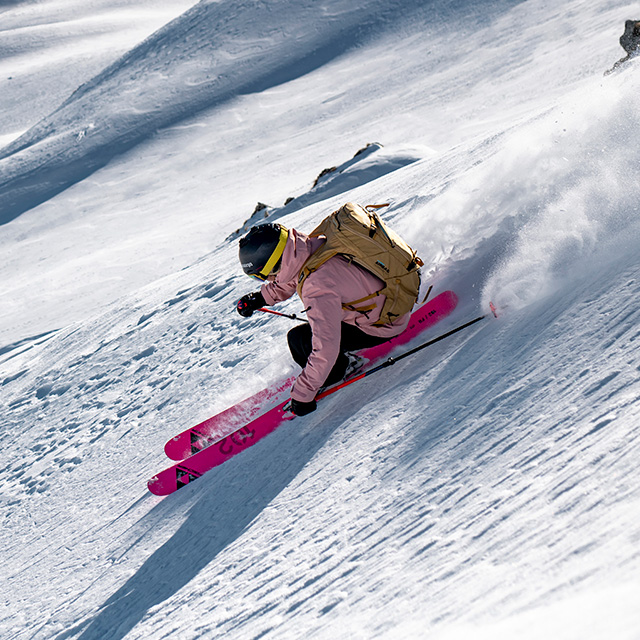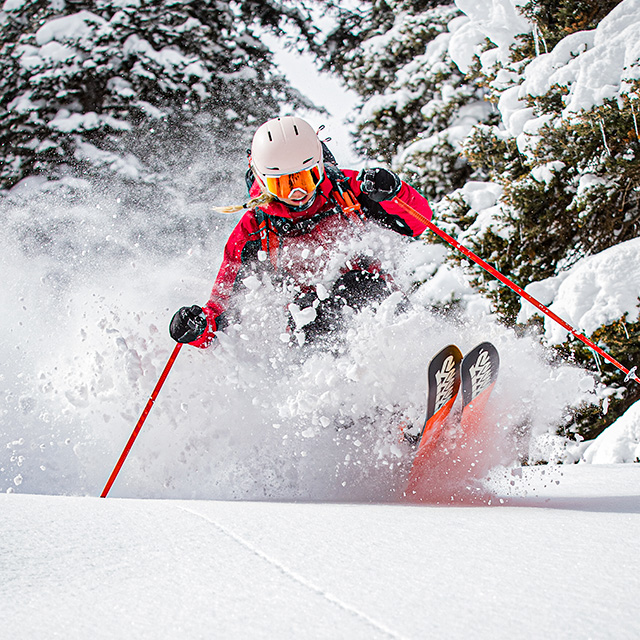 Powder Skis
When there is soft deep snow, these are the skis you want. Powder skis are wide and quite flexible. They are the perfect skis to make riding in the powder incredibly easy because of the added surface area.
Their downfall is their sluggish feel on groomed runs and mogul fields (but why would you ski on groomed runs on a powder day anyway?).
Park Skis
Park Skis are short for "Terrain Park Skis." These have identical tips on both ends (known as twin tips) to allow skiing backwards or switch. These skis are perfect for anyone that enjoys jumping, sliding rails, and any other skiing in terrain parks.
A lot of these skis can be used as a versatile all-mountain ski, with the added benefit of being able to shoot rooster tails at your slow friends.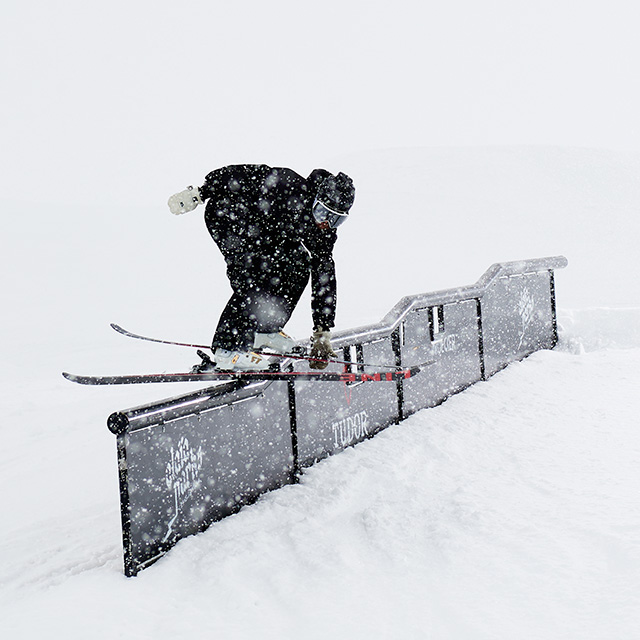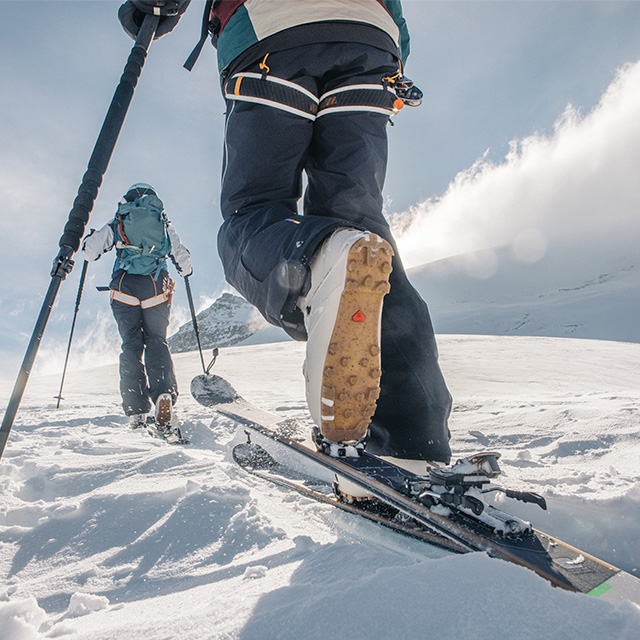 Touring Skis
For advanced skiers who want to escape the resort crowds, touring skis allow them to climb up the mountain with skins on the skis. At the top, the skins are removed for skiing down the backcountry. Touring skis also come in a variety of shapes and sizes for snow conditions and terrain. Brands make touring skis lightweight with softer flex to help with uphill travel. To learn more about touring, visit our Backcountry Essentials guide.