Intermediate Skis Comparison
Intermediate Skis
Intermediate skis run the gamut of beginner/lower intermediate learning skis to upper intermediate/advanced, all mountain skis. Additionally, many specialty or advanced skis can be used by intermediates for powder, park, or experimenting with extreme speeds. We've left some of these expert level skis out of this discussion though, as they are essentially very different skis from those included here.
To make comparisons easier to understand, we've broken intermediate skis up into three sections: lower intermediate, true intermediate, and upper intermediate. Lower intermediate skis will be a soft, usually synthetic core, and work great for learning. This category of skis would also be ok for a few years of development or for those who don't want to progress to high speeds.
Ski Flexes At High Speeds

True intermediate skis will be appropriate for nearly every intermediate skier, if sized correctly. In general, they have a medium flex, medium width, and can handle medium speeds. Their in-between nature allows them to cover the distance between lower intermediates and upper intermediates.
Ski Flexes and Maneuverability

Upper intermediate skis are the last step before you become an expert. These skis are usually pretty stiff, can be wider underfoot, and can handle high speeds. This list of traits clearly separates these skis from the lower intermediates.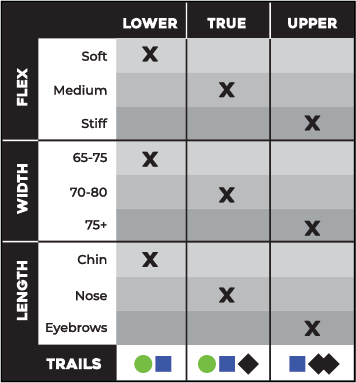 Lower Intermediate
Skis in this category are generally very soft and somewhat narrow. These skis are very easy to control, making them perfect to learn on. The soft flex makes the ski more forgiving, meaning they turn more easily and don't resist much to the pressure you apply. These skiers are content with ignoring the calls of high speeds. Additionally, these skis will not perform well in deep powder, thick slush, or like conditions, as they just don't have a wide enough waist to be able to handle these elements. That said, casual skiers that hit the slopes a couple times a year may NEVER need to progress past this level of skis. Correct sizing for a lower intermediate ski is chin height. If you're someone who is looking at a ski in at this level because you choose to not ski fast, but are very capable on skis, then you could go longer, and choose a ski that reaches your mouth.
True Intermediate
These skis are a step up from the lower intermediate range. They achieve this mostly by being a little bit stiffer. By making the ski firmer, it is able to handle quicker speeds without becoming unstable like a lower intermediate ski would. This is the perfect choice for the solid skier who only takes a few trips a year, or the developing skier who plans to take the sport seriously and does not want to buy a ski they can easily outgrow. Widths of true intermediate skis may vary somewhat. Skis with waist widths in the 70mm range are mainly for groomed runs, those in the mid to upper 70s are more versatile all mountain skis. Beginners who expect to excel quickly could consider a ski in this range; as long as they make sure that the length is at or below chin height. A true intermediate skier should generally search for a ski that's about mouth height.
Upper Intermediate
Skis in this category are slightly stiffer than skis in the previous categories. This might make these skis a bit too much for beginners to learn on, no matter what the length. Skiers looking into this category should be a little more than just a casual skier- either in ability or speed. Most skiers will not need to progress beyond skis in this category unless they want a specialty ski such as park or powder. If you're the type of skier who is looking for a fast paced groomer ski that can handle whatever trails the mountain has to offer, then look no further. This is the category for you.