Ski Packages: A Comprehensive Guide
At Level Nine Sports, our mission is to provide customers with the highest quality gear at the lowest prices. One of the best ways to get a good deal on gear is to purchase a ski package. We have a wide range of ski packages, from beginner to advanced level packages that cover all terrain types from the bunny hill to frontside ripping and even packages for the all-mountain shredder.
Ski Packages
Our ski packages vary to fit the needs of all customers. We have complete packages, as well as ski and binding packages for those who have already purchased boots. Additionally, during checkout, you can custom-build your own package by adding all the gear you want. We can mount and adjust all your gear, so it's ready for you as soon as it arrives!
If you are looking for a good deal, ski packages are a great way to save money. By purchasing all your gear in a package, you can get it for a cheaper price than if you bought the items separately. Additionally, packages are great for those who don't want to spend hours researching the best gear. Our industry experts handpick all the items in the packages, so you can rest easy knowing that you've got top-of-the-line gear.
Packages are best suited for beginner to intermediate skiers who don't know much about gear or exactly what they want. If you are looking for more advanced or terrain-specific gear, we recommend reaching out to our customer service team or visiting one of our shop locations to get expert advice on the gear you are looking for.
Skis with Bindings
In addition to the complete ski packages we offer, we also provide packages with just skis and bindings. The benefit of these packages is that you can get a good deal on skis and bindings while finding the best boot for you. Boots are widely considered the most important piece of equipment in skiing. If your boots aren't comfortable, then it doesn't matter how nice your skis or bindings are, you won't have a good time. An important step in creating your ideal ski setup is to start by finding a properly fitted boot, followed by selecting the perfect ski and binding package.
Some of our skis come with what is called system bindings. System bindings are also known as demo bindings. Regular bindings are adjustable but only between 3-4 boot sizes, depending on the binding model. System or demo bindings adjust to accommodate all adult boot sizes. This means that if you want to share a pair of skis but have different boot sizes, you can do it! Or if your feet grow between seasons, you can easily have the bindings adjusted without having to remount the skis.
What if I want to build my own package?
Awesome! We want to see the awesome packages that you come up with. When you add your gear to your cart, you have the option to add bindings as well as boots to make it a package. If you purchase skis, boots, and bindings through Level Nine Sports, we will mount your skis for free. Ski mounts cost $50-$100, depending on the shops around you, so purchasing all three items through us can save you some cash, which you can then enjoy by treating yourself to that premium $50 pizza at the lodge next Saturday!
Kids' Ski Packages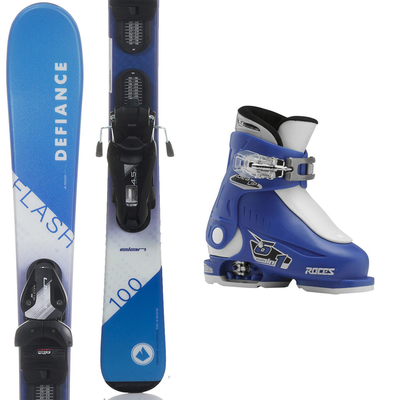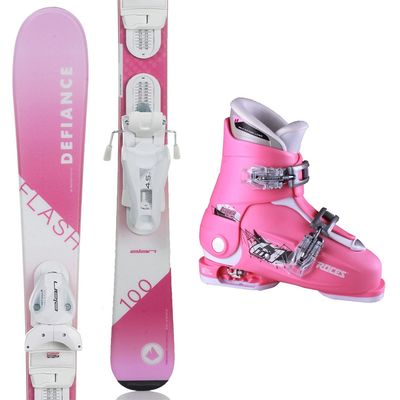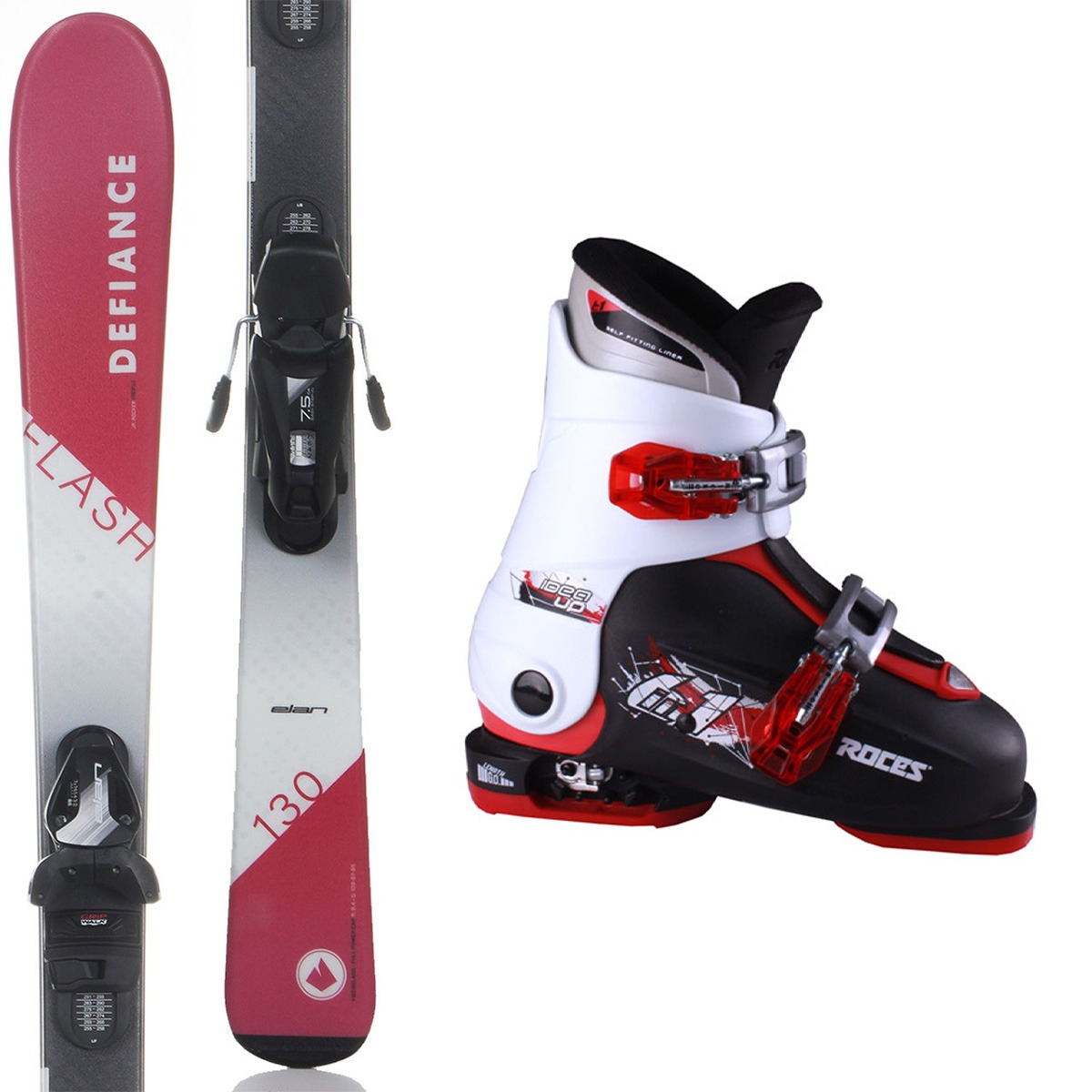 Defiance Complete Ski Packages
Complete packages are a great way to get your kids geared up for the upcoming season. Kids' equipment is usually simpler, so we recommend picking a package rather than buying all the gear separately. We offer packages with our best-selling Roces ski boots. These boots are perfect for kids because they can change sizes, covering 3 full boot sizes. To find the best gear for your kid check out our kids' ski packages.
At Level Nine, we want you to get the most out of your children's gear. The Defiance Package is great for parents trying to introduce their kids to skiing. The package can last up to 3 or 4 years before the child grows out of both ski and boot, making it an incredible deal for any parent. Getting the younger ones out earlier and at affordable prices will make it easier for you as a parent or guardian to get out and enjoy skiing too.