How to Dress for Skiing and Snowboarding
"What should I wear to go skiing?" is a question we get a lot, so we've put together this handy guide to help you layer it on for the slopes. In this guide, we will cover the key principles of layers, the main components of a skiing or snowboarding outfit, and some of the key features to look out for when shopping for ski and snowboard clothing.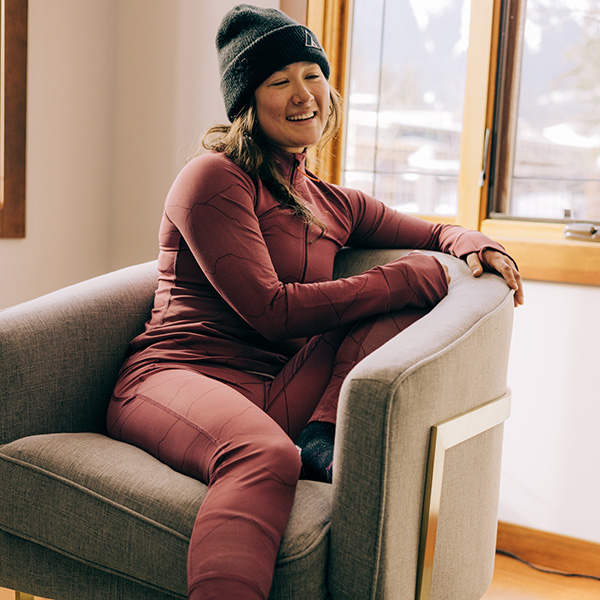 Base Layers
Base layers are the clothing items you put on very first. This layer serves two primary purposes: light insulation and moisture control. Base layers are made from moisture-wicking materials that will transport sweat off your skin to keep you dry. They also tend to be made of microfiber or natural fiber materials that provide warmth without much bulk. Avoid wearing cotton as your base layers as it tends to trap moisture.
Mid Layers
A mid layer is worn between your moisture-wicking base layer and your waterproof outerwear. It serves as your primary insulation and needs to be breathable to allow moisture to escape. These layers are typically either made from a fleece or a light puffy insulation, depending on the weather. In warm weather, it is common to forgo the mid layer, but keep one handy just in case, weather conditions can change quickly throughout your day on the mountain.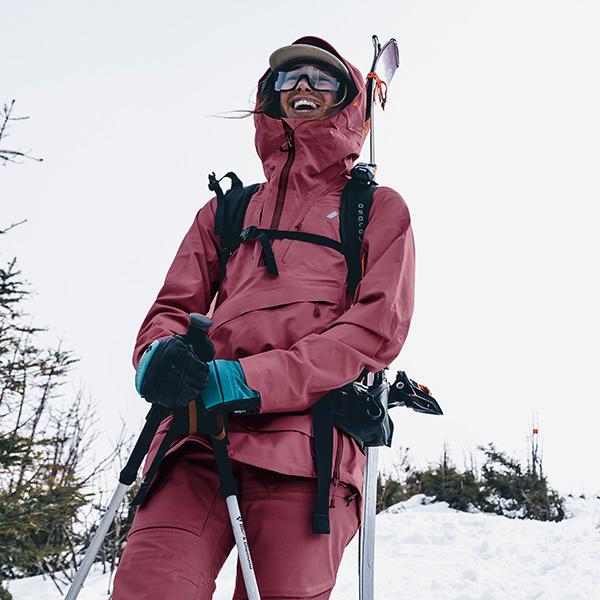 Outerwear
Outerwear will primarily protect you from water and wind. It is typically made of tough, abrasion-resistant fabric that is treated to be water and wind-resistant. You can opt for outerwear that includes insulation if you tend to be cold a lot. Alternatively, a shell is perfect for water/wind protection and good base mid and layers can provide warmth.
Ski & Snowboard Clothing Features
As you shop for the basic components of a ski or snowboard outfit, look for certain features that will ensure you stay warm and dry on the mountain. Many of the features you'll need will depend on the conditions you're willing to brave and your expected level of physical activity.
Design & Construction Terms You Should Know
Now that you know the different types of apparel that are available for winter sports, here are all the terms that help describe their characteristics.
Waterproofing
The waterproof rating of a piece of clothing is usually measured in "mm of water/24 hours," indicating the amount of rainfall an item of clothing can withstand in a single day. In general, 5,000mm or less is considered minimally waterproof and appropriate for relatively dry conditions. 5,000mm to 10,000mm of waterproofing is pretty standard for basic, entry-level ski outerwear. 10,000mm to 20,000mm is good for most snowy conditions. Over 20,000mm is appropriate for heavy-use ski gear or for rain gear.
Breathability
The breathability of clothing means how well it keeps sweat from collecting inside and making you damp. Breathability is generally measured in grams of water passed per meter per hour. Breathability below 10,000g is common in lower-end ski clothing but is perfect for people who will be taking breaks or not skiing too hard. 10,000-15,000g is mid-range and recommended for people who tend to work up a sweat while skiing. The 20,000g+ range is appropriate for backcountry skiers who will be working hard on ascents and need to ensure they stay completely dry.
Insulation
When selecting outerwear, you can choose either an insulated jacket and pants or a shell with layers underneath. In either case, you will still need to determine what kind of insulation you want. For mid layers, it is common to use a fleece or a light puffy. If you go for a puffy mid layer, you can get synthetic or down fill. Down fill tends to weigh less and is more compactable than synthetics. On the other hand, synthetics can be easier to wash and still insulate when they are damp (down does not).
Insulation Weights
Both down and synthetic insulation is rated for warmth versus weight. In general, a higher number in the rating indicates a better warmth-to-weight ratio. For a synthetic fill garment, this is measured in grams per square meter, and ranges from about 50 to about 120 grams per square meter. Down insulation is rated by the "fill power," with higher numbers indicating a higher percentage of down to feathers (down is warmer and lighter than feathers). In general, with either insulation you choose, a higher rating will indicate more efficient warming properties.
Moisture Wicking
Base layers and some mid layers will feature fabric designed to transport moisture from your ski to the outer layers for evaporation. It is important to consider the moisture wicking capabilities of your clothing so you don't get sweaty and damp. This can cause you to get cold, especially sitting on a chairlift. Wool is naturally moisture-wicking and is common in high-end base layers. Microfibers are the most common moisture-wicking material you will find in base layers. You should generally avoid cotton as it tends to trap moisture rather than wick it away.
Waterproof/Breathable Layers
There are two main ways a piece of outerwear can be made waterproof and breathable: a coating or a membrane. A coating is less expensive but offers less breathability and durability. Many low-end ski jackets and pants will use a coating rather than a membrane to save cost. Higher-end ski clothing will have a membrane, like Gore-Tex, which makes them more expensive but greatly increases the breathability.
Water Repellency (DWR)
Most outerwear designed for skiing will come with a durable water repellency coating (DWR). This causes water to bead up and run off the garment rather than soaking through to the waterproof coating or membrane in the outer fabric. The benefit of a DWR is that it prevents the fabric from "wetting out," which can cause the wearer to get cold, even if the water is not making it all the way to the skin. If your DWR starts to be less effective over the life of your garment, try washing it with mild detergent or using a product like Nikwax to replenish the DWR.
Other Important Features
There are a variety of other weather-protecting features that may be included in your ski or snowboard outerwear. Waterproof zippers and taped seams keep water and wind from getting in to your jacket. Powder skirts, wrist gaiters, and boot gaiters are all features that prevent snow from getting into your jacket and snowpants. Zippered vents offer extra insulation in armpits and legs. Finally, a helmet-compatible hood is a hood that will fit over your bulky helmet to provide extra warmth on those extra cold, windy days.