L9 Sports is proud to offer consignment at all four of our retail locations along the Wasatch Front. We'll accept your winter gear from September 15 to April 1 and your summer gear from April 15 to September 1. It's super easy, so quit holding onto your old gear and pick up a little cash to put toward your next upgrade!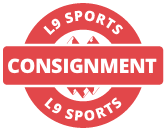 We've recently improved our consignment program! You can now consign your items for Store Credit and Get More Back!
You will now have two options for payment when selling your gear with us:
Store Credit Payout at a rate of 75%!!!
OR
PayPal or Venmo Payout at a rate of 65%
Now you will easily be able to put your credit towards your next purchase at any of our 4 Locations!
Current Consignment OFfering

---
NOW ACCEPTING ski CONSIGNMENT Until 04/01

Downhill Skis
Snowboards
Ski & Snowboard Boots
Poles
*You now have the option to get either 75% back in store credit or 65% back in a Paypal or Venmo payout when you consign us!
1. Drop off or pick up your gear at any time, free of charge, and fill out our in-store sign up.
2. When your gear sells, we send you an email informing you that you have funds available.
When You Sell An Item, The Following Fees Are Collected:
Complete Bikes:
25% Rate, Capped at $350. (with Paypal/Venmo Payout)
20% Rate (with Store Credit Payout)
All Other Gear:
35% Rate (with Paypal/Venmo Payout)
25% Rate (with Store Credit Payout)
**Some other things to know: The gear is yours until it sells. However, if it doesn't sell before the end of the season (September 1 for summer, April 1 for winter), it is your responsibility to pick it up. If you don't come get it, it becomes the property of L9 to do with as we please (have you ever seen those ski mailboxes?). We have this policy because we simply do not have space to store everyone's old gear indefinitely.